Welcome Page
Welcome to Mrs. Haire's Class
*****************************************************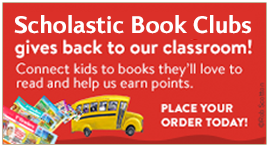 Activation code for our class is HHY9T
Please try to order online.
** Please sign up for my Remind. **
Classroom wish list: , candy for treat bucket, hershey kisses, Mr. Sketcher markers, and snack ziploc bags. For every item sent in your child will get 2 tickets.
**ink HP 61 black & color (15 tickets)
Your child may bring a non-sugary snack and a bottle/thermos of water each day. Please make sure his/her name is on it.
Please send lunch money in a plastic sandwich bag with child's name. We will give bag back for reuse. Please write telephone number on any checks that are sent to school.
Important Dates
March 11-15 Spring Break
**Please have your child to school by 8:25.
**Please write your phone numbers on the checks you send to school. PLEASE make sure all money is labeled. The students sometimes forget who put money in the basket.
**Please leave car rider signs hanging from the rear view mirror until your child is in the car.
**Please send an over sized t shirt or smock to wear on art days. We will go to art on Tuesday.
**Please wear tennis shoes on PE day. We will go to PE on Monday.
Remember any transportation changes MUST be in written form. I am not allowed to take a child's word on how they will be getting home.
**Please make sure to read the student handbook. It has some very important information as well as explaining the state mandated law for reading levels. It also provides information about the new grading policy.

Please make sure you are signing your childs homework and behavior log each night.
Look what we are studying this week....
Check you child's binder everynight for information!

I will NEVER give a test early, but if I feel my class is not ready I will change the test day.
Reading: Reviewing skills from 3 rd 9 weeks Vocabulary test will be Thursday, March 7th

English/Writing: Biographies

Math: We will be reviewing all skills: counting money, money word problems, word problems with addition and subtraction, 2 and 3 digit adding and subtracting, adding 3 or 4 2 digit numbers, calendar. Review and study sheet sent home.. 3rd 9 weeks math test Thursday/Friday!