Welcome Page
Welcome to
Mrs. Lewis'
2nd grade class!
Due to testing for all grades, from April 9th through April 15th our lunch schedule will change. During that time we will be going to lunch at 12:05.
Plese send individually wrapped small candy for candy jar.
Thank you for all your support.
I update my website each week. This is a good resource for any questions that you may have including homework assignments and tests. If you do have questions, the quickest way to get in touch with me is through email.
Please remember to always send a note in your child's daily folder if the way your child goes home changes. This is very important for safety reasons.:)
Please do NOT take anything out of your child's binder that is in a page protector. We do not have extras of the resource sheets we are placing in there. All information in the page protectors must stay in the binder. Thank you.
***Please make sure your child uses the bathroom before he/she leaves the house in the mornings.***

**Please make sure to read the student handbook. It has some very important information as well as explaining the state mandated law for reading levels. It also provides information about the new grading policy.

**Please leave car rider signs hanging from the rear view mirror until your child is in the car.
***Make sure you initial your child's behavior log each night.***
Please collect and send in box tops!
Wear tennis shoes on Tuesday for P.E.
Return library books on Friday.
Your child may bring a non-sugary snack and a bottle/thermos of water each day. Please make sure his/her name is on it.
Please send lunch money in a plastic sandwich bag with child's name. We will give bag back for reuse. Please write telephone number on any checks that are sent to school.
If your child brings an item from the wish list, they will receive a ticket.
Please remember if your child is absent to print, fill out, and send to school the parent excuse form.
-
Important Dates:
Mar. 28 - money due for field trip
Apr. 8 - Field trip to Redbirds game
Apr. 9 - walkathon
Apr. 19 - 22 - Easter holiday; no school
May 15 - 2nd grade field day
Here's What We're Studying
Mar. 18 - Mar. 22

Reading: Reading "The Earth Dragon Awakes". Working on comparing different points of view. character responses to events. (describe and identify) New vocabulary words are in binder. Need to study every night. Cold read on Thursday.
Spelling: NO SPELLING THIS WEEK!!! Words are found on spelling page and in students' binder. (do not remove) There will also be two dictation sentences that will be graded on spelling, punctuation, and capitalization. Spelling test on Friday.
Practice words on Spelling City:
https://www.spellingcity.com/users/catlewis1
Phonics: SIPPS
English/Writing: narratives and responding to our reading

Math: We will start with partitioning rectangles into rows and columns. Test on Thursday with review questions. We will then begin on arrays.
C-circle the numbers
U-underline the question
B-box around key words
E-evaluate (write equation)
S-solve (stack the equation)
2 digit addition:
Strategy 1: Base 10 blocks : Concrete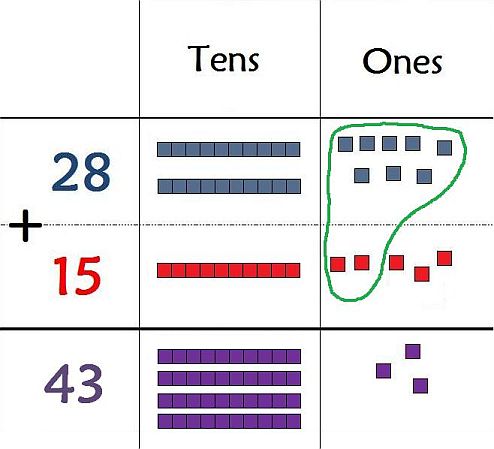 Strategy 2: Place Value Strategy
Practice for word problems:
http://www.mathplayground.com/wpdatabase/wpindex.html
_____________________________________________
Use the Scholastic link on my links page to place your book order on-line.
_____________________________________________